iConji Social App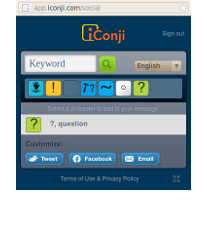 Overview
iConji Social is light-weight, simple version of iConji that delivers messages directly to Twitter, Facebook Wall, and email. Post to Twitter, Facebook, and send email in iConji, and the world will understand you!
No account or sign-up.
Post directly to your Twitter account, Facebook Wall, and send email with embedded iConji messages.
Viewers of your iConji Tweet or Facebook Wall post can select from any of the supported languages for instant translation. (see example)
Colorful, engaging Tweets and posts that grab your friends' attention!
Be certain to review supported platforms.