Two Apps to Connect the World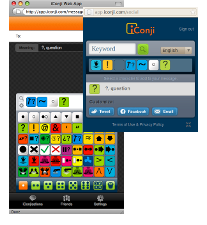 iConji Messenager or iConji Social?
iConji Messenger is for person-to-person communication, an alternative to plain (boring!) SMS. It runs on supported web browsers as a stand-alone application or within Facebook.
iConji Social enhances Facebook Wall, Tweets, and email, adding color, humor, and fun.
Compare the features and benefits of the iConji applications.