iConji Messenger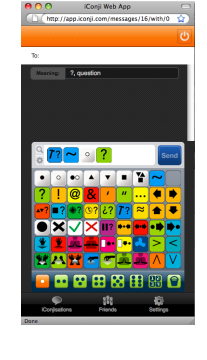 Overview
iConji Messenger is for person-to-person communication, an alternative to plain (boring!) SMS. It runs on supported web browsers, as a stand-alone application and from within Facebook.
Login to iConji Messenger using a unique username and password or your Facebook ID using Facebook Connect.
All changes to the layout of your iConji keyboard are fully recalled each time you log in.
The iConji Messenger application for iOS (iPod Touch, iPhone, iPad) is not maintained at this time.